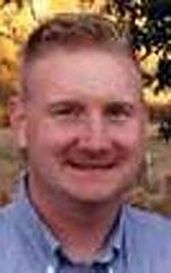 CAPT. CHRISTOPHER P. PETTY – U.S. Army
Hometown / City: VIENNA, VA FAIRFAX
Date of Death: Thursday, January 5, 2006
Conflict: Operation Iraqi Freedom (Iraq)
Branch: U.S. Army
Rank: Capt.
Unit: HHB, 3D BATTALION, 16TH FIELD ARTILLERY, 4ID, (TF BAGHDAD), FORT HOOD, TX
Birth: 1972, USA
Death: Jan. 5, 2006, Iraq
Christopher P. Petty barely squeaked by as a high school student in Virginia, his father said, but he thrived amid the rigors of military culture, rising to the rank of captain and commanding an artillery battalion in Iraq.
"It's just kind of a typical American story where… the combination of life and experience in the military turns him completely around to where he's a model officer," said Paul R. Petty, a retired CIA officer.
Capt. Christopher P. Petty was married and had two sons, Owen and Oliver. He was a graduate of James Madison High School in Vienna.
Petty, 33, was killed in Najaf on Thursday along with four other soldiers when an improvised explosive detonated near their Humvee, the Defense Department said. He was three weeks into his second tour of duty in Iraq.
Petty was a father of two — Oliver, 3, and Owen, 3 months — and he and his wife, Deborah, had lived near Fort Hood, Tex., where he was assigned to the 4th Infantry Division.
Because of his father's work, Petty grew up overseas. He was born in Berlin and lived in Austria, Finland and Jamaica. He was a graduate of James Madison High School in Vienna and attended Marshall University in Huntington, W.Va., where he was enrolled in the ROTC program.
He was commissioned in the Army upon graduation. Ed Petty, an artillery officer in World War II, pinned his own second lieutenant's bars and crossed cannon artillery insignia on his grandson at the commissioning.
Petty's unit entered Iraq just days after the initial invasion, engaging some of the last Republican Guard elements near Tikrit in the north.
Stationed not far from the Iranian border, his father said, Petty served informally as a civil affairs officer with the responsibility of running local elections and formally as the artillery coordinator for his battalion. Petty devised a clever method, one that he employed daringly, for responding to frequent mortar attacks, his father said. Petty would calculate the mortars' trajectories by examining impact craters and tail fins, then determine from where the rounds had been fired.
"He'd go out where they were impacting, sometimes while they were still coming in," Petty said.
During that year-long deployment, his battalion suffered only one casualty, his father said. The insurgency has since grown stronger, and Petty was aware that he would return to a more dangerous country, his father said.
He recalled when his son, in middle school, was on a Vienna soccer team with the son of Redskins coach Joe Gibbs.
The soccer coach didn't show up one day. Gibbs stepped in, leading the underdog team to victory. "They trounced these other guys, who were touted to win by huge margins," Paul Petty said. "Those boys — they were on cloud nine."
Burial:
Arlington National Cemetery
Arlington
Arlington County
Virginia, USA
Plot: Section 60