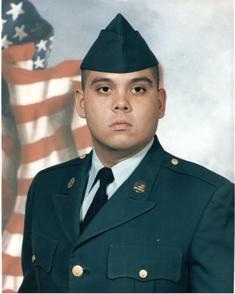 CPL. SHANNON L. SQUIRES – U.S. Army
Hometown / City: VIRGINIA BEACH, VA VIRGINIA BEACH (CITY)
Date of Death: Monday, August 28, 2006
Conflict: Operation Iraqi Freedom (Iraq)
Branch: U.S. Army
Rank: Cpl.
Unit: BATTERY A, 3D BATTALION, 321ST FIELD ARTILLERY, FORT BRAGG, NC
Birth: Oct. 28, 1980
Alexandria
Alexandria City
Virginia, USA Death: Aug. 28, 2006
San Antonio
Bexar County
Texas, USA
Shannon was raised in Virginia Beach and was a Tallwood High School graduate class of 1999. He was a member of St. Gregory The Great Catholic Church and it was there that a final salute for a fellow soldier who his family says believed in the brotherhood of service. He had already done a tour of Iraq. Although junior in rank, he was senior in experience. He took it upon himself to coach young soldiers on what right looked like. He was badly burned, but survived for months. He spent more 3 months in a struggle to recover from burns that covered 60 percent of his body. About a month before, with his mother seeing her son coming out of his coma and being able to talk to him, There were days of great hope. She was very happy to have those moments. They turned out to be the last moments for mother and son. He was the son of Ralph and Velma Squires. He is survived by his brother, Mark Shane Squires; his paternal grandparents, Ralph and Kim Squires; maternal grandmother, Teresa Cruz. He was 25.
Army
3rd Battalion,
321 Field Artillery Regiment,
18th Field Artillery Brigade,
XVIIIth Airborne Corps Artillery,
Fort Bragg, N.C. Burial:
Colonial Grove Memorial Park
Virginia Beach
Virginia Beach City
Virginia, USA