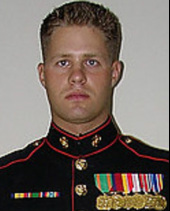 Cpl. NICHOLAS P. RAPAVI – U.S. Marine Corps
Hometown / City: SPRINGFIELD, VA FAIRFAX
Date of Death: Friday, November 24, 2006
Conflict: Operation Iraqi Freedom (Iraq)
Branch: U.S. Marine Corps
Rank: Cpl.
Unit: G CO, 2D BN, 8TH MAR, (RCT-5, I MEF FWD), 2D MAR DIV, CAMP LEJEUNE, NC
Birth: Sep. 26, 1984, USA
Death: Nov. 24, 2006
Al Anbar, Iraq
Cpl. Nicholas P. Rapavi of Springfield, Va., served in Afghanistan and once before in Iraq. He advanced in the ranks to become a corporal and led a squad of as many as 12 Marines. Nicholas had planned to leave the Marines at the end of his four-year term in May and go to college and possibly re-enlist later. He attended Bryant Alternative High School and graduated in 2003 and enlisted immediately in the Marines. His first deployment took him into combat in Afghanistan, where he survived an ambush and won a Navy Achievement Medal. He also held many other medals. He was 22.
Marines
2nd Battalion,
8th Marine Regiment,
2nd Marine Division,
II Marine Expeditionary Force,
Camp Lejeune, N.C. Burial:
Arlington National Cemetery
Arlington
Arlington County
Virginia, USA
Plot: Sec 60 Site 8521