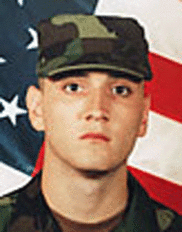 Cpl. MATTHEW A. COMMONS – U.S. Army
Hometown / City: BOULDER CITY, NV CLARK
Date of Death: Monday, March 4, 2002
Conflict: Operation Enduring Freedom (Afghanistan)
Branch: U.S. Army
Rank: Cpl.
Unit: COMPANY A 1ST BATTALION 75TH RANGER REGIMENT HUNTER ARMY AIR FIELD, GA 31409
Birth: Feb. 18, 1981
Fort Wayne
Allen County
Indiana, USA
Death: Mar. 4, 2002, Afghanistan
Army Cpl Commons was assigned to the 1st Battalion, 75th Ranger Regiment, Fort Stewart, Georgia. Commons was part of a helicopter rescue team sent to retrieve the body of Navy SEAL, Neil Roberts, who had been killed in combat during Operation Anaconda outside Gardez. Commons died in a gun battle with Taliban and al-Qaida fighters after two MH-47 Chinook helicopters were hit by grenades. Matt grew up in Boulder City, Nevada. While in high school he was secretary of the senior class and did well in school. But when he went to the University of Nevada at Reno, he flunked out because he spent too much time snowboarding. At that point, Matt decided to follow a family tradition and join the military. Matt wanted to be a soldier like his father — and then after that, maybe a history teacher like his father. The young soldier came home with a tattoo, as young soldiers so often do, but the tattoo that Matt chose to display on his back was a cross with "Jesus" flowing over it in Hebrew script. Some of his family's fondest memories of Matt involve him being a gung-ho soccer player since age 5, a high school honor student, class secretary, a cut-up who painted his face and cheered on the school team, and a guy who couldn't get his fill of Skittles. Matt was posthumously promoted to corporal and earned the Bronze Star, the Purple Heart and the Meritorious Service Medal.
Burial:
Arlington National Cemetery
Arlington
Arlington County
Virginia, USA
Plot: Section 66, Site 6855