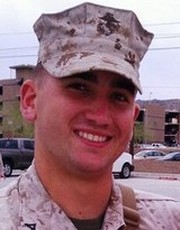 CPL. MARK R. GOYET – US Marines
Date of Death: June 28, 2011
Conflict: Operation Enduring Freedom (Afghanistan)
Branch: US Marines
Rank: Cpl
Unit: 3rd Battalion, 4th Marines, 1st Marine Division, I Marine Expeditionary Force, Twentynine Palms, Calif.
Birth: Apr. 23, 1989
Hampton
Hampton City
Virginia, USA
Death: Jun. 28, 2011
Helmand, Afghanistan
Cpl. Mark R. Goyet, 22, of Sinton, Texas, died June 28 while conducting combat operations in Helmand province, Afghanistan. He was assigned to 3rd Battalion, 4th Marine Regiment, 1st Marine Division, I Marine Expeditionary Force, Twentynine Palms, Calif. Survivors include his parents, Commander Raymond and Martha Goyet of St. Paul, Texas; two sisters, Jenna (Joshua) Cordy of 29 Palms, Calif., and Brianne (John) Schumann of Rivera, Texas; maternal grandparents, Philip and Nancy Curran of Westbrook; nieces, Mia Lane Cordy and Madelyn Schumann, and nephews, Ryan Schumann and Calvin Schumann. Preceding in death are paternal grandparents, Raymond and Muriel Goyet. Mark was promoted from Lance Corporal to Corporal.
Burial:
Unknown
---
SINTON — Mark Goyet's friends, family and community celebrated his life Wednesday night the way he would have: At the stadium, under the lights, with loud, happy music and as many smiles as the crowd could muster to fight its tears.
The 22-year-old Marine corporal died June 28 in combat in Afghanistan.
His hero's send off at Sinton High School's Pirate Stadium started more like a concert than a memorial, Goyet's own playlist blaring over the loudspeakers — everything from the smooth crooning of Neil Diamond to the hard electric licks of AC/DC — while mourners-turned-celebrants filled the home stands.
As a white hearse carrying Goyet's flag-draped casket made its way down Pirate Boulevard, in view of the stadium, the soaring, silly lyrics of British rock band Queen's "Bohemian Rhapsody" set some of Goyet's friends to laughter.
"Can't you imagine him jumping around right here?" his friend, Ruben Davila, asked another friend while the song played. "In a dress."
Goyet was a Bleacher Creature — a school spirit group known for its goofy antics. Goyet was known for stoking the crowd while wearing a dress.
One of his fellow Marines said "Bohemian Rhapsody" was the song Goyet liked to play when he drove a boat, to keep everyone on board awake.
The crowd was told story after story of Goyet and his antics, always grinning, always hopeful, even when things didn't work out as planned.
"Mark would kick my butt for crying so much," close friend Brittany Thomas said.
It was here at Pirate Stadium where she and Goyet once went after a concert. He wanted to lay out under the lights, she said, on the field where he played football. It didn't faze him when the skies opened up.
"Laughing and playing in the rain was Mark," Thomas said. "That was the Mark that everyone who got to know him loved."
But he took seriously his obligations as a friend and as an American.
"I can't even count how many times I would call him crying over something ridiculous and he would just come over," Thomas said. "Like always, he knew exactly what to say."
Goyet was a community volunteer, and he also volunteered for duty in Afghanistan.
He served one tour in Iraq as a mortar man and afterward was assigned to a Marine Expeditionary Unit on a Navy ship based in Japan, before volunteering in March to go to Afghanistan. His father, Raymond Goyet, is a Navy commander.
Goyet was killed in action during combat operations in Helmand province. His family said he was shot several times in the chest and died before medics reached him. He was posthumously promoted to corporal and awarded a medal for valor.
While deployed, he stayed in touch with friends and family back home, writing cheerful Facebook messages to friends and caring letters to his parents.
In one letter to his mother, Martha Goyet, Mark told her that she and his dad had inspired him to be more spiritual. He was reading his Bible more, he said. He wished Martha a happy Mother's Day.
"You never gave up on me when other people would have," he told her.
And in a postscript on the letter, in addition to a Texas flag and some soy protein, he asked his parents to send a rosary — with instructions on how to use it.
His friend, Ryne Austin, said Goyet was looking forward to going to college when his military service ended. The two planned on rooming together in the same house in Portland.
As he looked at the crowd in the home stands, Austin surmised that the service had been held there, he said, "because a church wouldn't hold enough people."
More than 300 people came to Pirate Stadium.
They looked out over Goyet's casket and beyond, across the maroon Sinton High School emblem at center field, to where the bugler sat, ready to play Taps, in front of an empty visitors' side.
For one night, everyone in Sinton was on the home team.