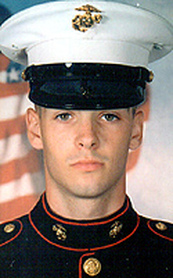 CPL. JONATHAN W. BOWLING – U.S. Marine Corps
Hometown / City: STUART, VA PATRICK
Date of Death: Wednesday, January 26, 2005
Conflict: Operation Iraqi Freedom (Iraq)
Branch: U.S. Marine Corps
Rank: Cpl.
Unit: C CO, 4TH CEB, 4TH MAR DIV, LYNCHBURG, VA
Birth: Nov. 24, 1981
Death: Jan. 26, 2005, Iraq By DEBBIE HALL
Bulletin Staff Writer
The most accurate portrayal of a life are not words chiseled in stone, but rather memories etched in the hearts of loved ones.
Among those in Jonathan Bowling's inner circle, there is no shortage of recollections.
"Jon was a good guy. He was loving, kind, compassionate and he went to church a whole lot," said Clint Weidhaas, a close friend.
Cpl. Jonathan Williams Bowling, 23, of Patrick County, along with three other members of his Marine Reserve Unit based in Lynchburg, died when their convoy was ambushed on in Iraq on Wednesday.
Jonathan was the son of Darrell Bowling, Master Trooper with the Virginia State Police, and Robin Feron, of Patrick County. His step-parents are Greg Feron and Rita Bowling, also of Patrick County. Jonathan Bowling also was an officer with the Martinsville Police Department.
"My best friend has been taken from me. He was my brother," Weidhaas said. The two enjoyed many hobbies together — motorcycling, four-wheeling, hunting, fishing and target shooting.
"Jon and I were planning on going riding when he got back," Weidhaas said.
Both were students at Patrick County High School and both aspired to be state troopers.
"We were hoping to work together. Now, that won't happen," he said.
Weidhaas said he talked with Bowling about two weeks ago.
"The last thing he said to me was 'I miss you, brother.' Then, I said it back to him. That was it," Weidhaas said.
It was the last time the two talked.
"I'm handling it, but I've never been through anything like this before," Weidhaas said. "We were brothers in God and in life. When you get that taken away, it hurts. It's going to take awhile."
Weidhaas' biggest concern now is for Tonya McFarling, Bowling's girlfriend.
"She's taking it real hard and there's nothing I can do. They loved each other," he said.
But through her tears, McFarling also manages to smile at some of the memories.
"I loved everything about Jon. There wasn't anything I didn't love. He was so sweet. He didn't have a fault," McFarling said. "We never argued. We always found a happy medium."
Although not formally engaged, McFarling said Bowling told her when she took him to Lynchburg, "We've got big plans to make. I'll be home and we've got big plans to make."
She said Bowling managed to call her regularly — even if it meant getting up at 3 or 4 a.m. to beat the long lines at the telephone.
He even managed to call on Christmas Day. "That was the best Christmas present I got," she said.
McFarling's 26th birthday was on Tuesday. "I knew he'd find a way to call me on my birthday," she said. "I told him I loved him and he told me he loved me. That was the last thing he said."
Bowling's untimely death has created a void.
"We did everything together and every second we spent together was perfect. We'd just sit there and wish we could freeze the moment," McFarling said. "I miss him."
"It's easy to understand why God would want him back so soon," said Stuart Scott, chief of the Fairystone Fire Department.
Scott said the first time he met Bowling was at the scene of a car wreck, before Bowling joined the fire department.
Scott and his crew got a call to respond to an accident on Virginia 57, he said. When the crew arrived at the scene, they saw a car turned upside down.
"We got on our turn-out gear and were peeping in the windows when here comes this young man crawling out one of the windows. He was dressed in a black tie, black pants and a white shirt," Scott recalled with a chuckle.
Turns out, it was Bowling. He saw the wreck while on his way home from church and stopped to help.
Scott said some of the members good-naturedly teased Bowling about answering calls while he was dressed up.
"And he said, 'I like action,'" Scott said. Scott invited Bowling to join the department and he did.
Among the gag gifts at the annual banquet that year was a plaque for Bowling.
"We gave him an award for being the best-dressed fireman," Scott said.
Chris Corbett, Patrick County commonwealth's attorney, knew Bowling as a fellow volunteer firefighter and knew his family as well.
Although Bowling lived north of Stuart and was a member of the Fairystone Volunteer Fire Department, he often showed up "in all kinds of weather" to help work calls in Stuart, where Corbett is a member.
"Like most of us, Jon wanted to be where the action was and he wanted to help, but he would even show up for traffic duty," Corbett said. And that, he added, can be "pretty boring."
Youthful energy and maturity beyond his years made Bowling unique, he said.
When Bowling joined the Marine reserves, Corbett said some family members expressed concern. When he was destined to go to Iraq, that concern intensified.
Bowling's reply, Corbett said, was "'if I don't go, someone else will have to.' That's just the kind of person he was."
As family and friends mourn, their loss is felt across the state.
"Mr. Speaker, you know I believe that humor is an essential component of life … Unfortunately today, Mr. Speaker, there is no humor in my district," said Del. Ward Armstrong, D-Collinsville.
Armstrong requested that the House of Delegates adjourn on Thursday "in the honor and memory of Corporal Jonathan W. Bowling."
"The lives of these young Virginia Marines and all the men and women who have made the ultimate sacrifice in the war on terror will always be remembered in the hearts and minds of their families and friends, their communities, our commonwealth and indeed, our great nation," U.S. Sen. George Allen said Thursday.
Bowling, a drilling reservist with Company C, 4th Combat Engineer Battalion of Lynchburg, initially joined the Marine Corps in June 2000.
According to a release from Chief Warrant Officer David Dennis, a Marine spokesman, Bowling sustained injuries to the head and shoulder from "small arms and explosions while conducting combat operations against enemy forces in the Al Anbar province of Iraq."
Bowling's remains are scheduled to arrive in Dover, Delaware, around noon today. When protocol there is completed, the remains will be flown to Greensboro, N.C., and from there to Stuart, Dennis said.
Burial:
Stuart Cemetery
Stuart
Patrick County
Virginia, USA