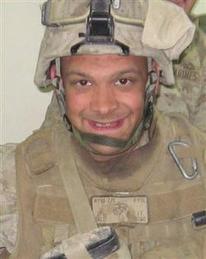 Cpl. JONATHAN T. YALE – U.S. Marine Corps
Hometown / City: BURKEVILLE, VA
Date of Death: Tuesday, April 22, 2008
Conflict: Operation Iraqi Freedom (Iraq)
Branch: U.S. Marine Corps
Rank: Cpl.
Unit: WPNS CO, 2D BN, 8TH MAR, (RCT-1, I MEF FWD), 2D MAR DIV, CAMP LEJEUNE, NC
Birth: Jan. 22, 1987, USA
Death: Apr. 22, 2008, Iraq
Cpl. Jonathan T. Yale, 21, of Burkeville, Virginia. Jon grew up in Meherrin, Virginia, and was very close to his mother and sister. A 2006 graduate of Prince Edward County High School in Farmville, Virginia. Jon was assigned to the 1st Battalion, 9th Marine Regiment, 2nd Marine Division, II Marine Expeditionary Force, based at Camp Lejeune, N.C. On April 22, Jonathan and LCPL Jordan Haerter were assigned to guard the main gate of Joint Security Station Nasser in Ramadi, the capital of Anbar province. They spotted a 20-foot-long truck headed toward the gate. Jordan and Yale tried to wave off the truck, but it kept coming. They opened fire, peppering the radiator and windshield. The truck slowed but kept rolling. A few dozen feet from the gate, the truck exploded. Investigators found that it was loaded with 2,000 pounds of explosives. In December of 2008, it was announced that Jordan and Yale were to be awarded The Navy Cross for their heroism. Their families were given them on February 20, 2009.
He is survived by his wife, Shannon Diane Shanks Yale of Farmville; mother, Rebecca Pride; father, William Sydnor Jr; sister, Tammy Yale all of Mid-Way Park, NC; grandparents, Gary and Patricia Yale of Meherrin; uncles, Joe Yale of Norfolk and David Yale of Waynesboro.
Funeral Services were conducted April 28, in the Chapel of Shorter Funeral Home with interment in the Yale Family Cemetery, Meherrin, with Military Honors. Corporal Yale was awarded The Purple Heart. The Reverend Leon Burchett and the Reverend Dale Brown officiated. The Shorter Funeral Home, Farmville, served the family.
YALE, JONATHAN T CPL US MARINE CORPS IRAQ DATE OF BIRTH: 01/22/1987 DATE OF DEATH: 04/22/2008 BURIED AT: YALE FAMILY CEMETERY CC CAMP RD MEHERRIN, VA 23954
Burial:
Yale Family Cemetery
Meherrin
Lunenburg County
Virginia, USA