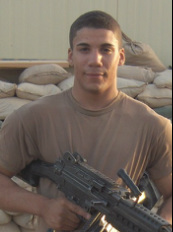 Cpl. JONATHAN D. WINTERBOTTOM – U.S. Army
Hometown / City: FALLS CHURCH, VA FALLS CHURCH (CITY)
Date of Death: Wednesday, May 23, 2007
Conflict: Operation Iraqi Freedom (Iraq)
Branch: U.S. Army
Rank: Cpl.
Unit: HHT, 3D SQUADRON, 1ST CAVALRY, FORT BENNING, GA
Birth: May 25, 1985
Washington
District of Columbia
District Of Columbia, USA
Death: May 23, 2007, Iraq
Army Cpl. Winterbottom was assigned to 3rd Squadron, 1st Cavalry Regiment, 3rd Brigade Combat Team, 3rd Infantry Division (Mechanized), Fort Benning, Georgia. Winterbottom was en route to assist fellow soldiers in Al Nahrawan who were injured as a result of an IED explosion when the vehicle he was in was also hit by an IED. Jonathan graduated from Falls Church High School in Falls Church, Virginia in June 2003, where he participated in swimming, cross-country, wrestling, lacrosse and football. In October 2003, he enlisted in the U.S. Army with the intention of becoming an Army ranger, but he found his true calling as a combat medic. Following his first year of combat in Iraq from January 2005 to January 2006, he received the Army Commendation Medal for valor. He was deployed again to Iraq in March 2007. Jonathan loved life and gave full measure to everything he did. His friendly and outgoing personality enabled him to make friends easily and his warm heart and dedication to family and friends is the legacy he leaves behind. His friends know that he would not want them to grieve for him – he always enjoyed life and would also want them to. He leaves behind his wife, Rosa, who is also in the Army. While in high school, Jonathan lost his mother to lung cancer. He was buried with her at Oakwood Cemetery.
Burial:
Oakwood Cemetery
Falls Church
Falls Church City
Virginia, USA