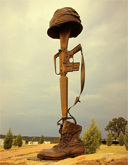 CPL. JAMES R. BAYNARD – U.S. Marine Corps
Hometown / City: Richmond, VA
Date of Death: Sunday, October 23, 1983
Conflict: Beirut, Lebanon
Branch: U.S. Marine Corps
Rank: LCpl.
Birth: Aug. 6, 1960
Death: Oct. 23, 1983
Beirut, Lebanon
United States Marine Corps. One of the 241 U.S. Servicemen killed in a single strike, when a terrorist truck bomb ripped through the United States Marine barracks in Beirut, Lebanon on October 23, 1983. This bombing drove the military from its peacekeeping mission in Lebanon and provided a blueprint for attacking Americans.
HOMETOWN: Richmond, VA
Age: 23
Burial:
Maury Cemetery
Richmond
Richmond City
Virginia, USA