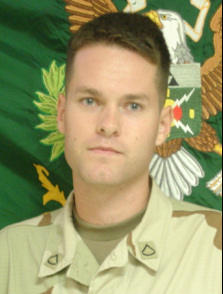 CPL. GEORGE A. LUTZ – U.S. Army
Hometown / City: VIRGINIA BEACH, VA VIRGINIA BEACH (CITY)
Date of Death: Thursday, December 29, 2005
Conflict: Operation Iraqi Freedom (Iraq)
Branch: U.S. Army
Rank: Cpl.
Unit: CO A, 9TH PSY OPS BN, 4TH PSYOP GROUP (CFLCC), FORT BRAGG, NC
Birth: Dec. 12, 1980, USA
Death: Dec. 29, 2005, Iraq
Army Pfc. George A. Lutz II, 25, of Virginia Beach, Va.; assigned to the 9th Psychological Operations Battalion, 4th Psychological Operations Group, U.S. Army Civil Affairs and Psychological Operations Command, Fort Bragg, N.C.; killed Dec. 29 when his dismounted patrol was attacked by enemy forces using small arms fire in Fallujah, Iraq. In high school, Tony ran cross-country and played basketball. At pep rallies, he never failed to inspire classmates with his enthusiastic antics and shouts. After high school, Lutz attended Shenandoah University for several years and then dropped out. He married his high school sweetheart and joined the Army. He is survived by his wife, Tiffany Lutz, and their children, Anthony George Lutz III, 3, and Ava Lutz, five months old, all of Fayetteville, N.C.; his parents, Patricia and George Lutz Sr. of Chesapeake, Va.; three sisters; and one brother. He is the nephew of Mary and John Clint Hurt and his cousins, Alex and Margaret Hurt, all of Midland. His father, George Lutz Sr, is the founder of HonorandRemember.org.
Burial:
Arlington National Cemetery
Arlington
Arlington County
Virginia, USA
Plot: Sec 60 Site 8306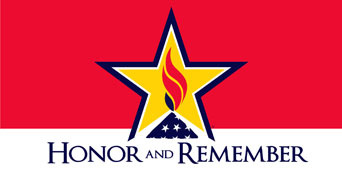 Tony's Dad, George, designed this flag. It debuted on May 26, 2008.
George said, "The idea for the Honor and Remember Flag
was the result of losing my own son in the Iraq War.
Tony was killed by a sniper in December 2005, while he was on patrol
outside Fallujah. Our family went through all of the stages that follow
such a tragedy: shock, grief, numbness, and acceptance.
But as I visited other families who lost young people in the war,
and as I attended the funerals of other fallen service men and women,
it occurred to me that there was no lasting, tangible symbol that
these families could use to honor their lost loved one. There are two things
that parents long for when they lose a child this way.
First, they want their child's death not to have been in vain,
and secondly, they want their child's sacrifice to be remembered."
Visit: www.honorandremember.org