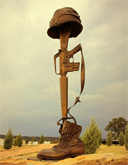 CPL. DAVID L. REAGAN – U.S. Marine Corps
Hometown / City: Virginia Beach, VA
Date of Death: Thursday, September 30, 1982
Conflict: Beirut, Lebanon
Branch: U.S. Marine Corps
Rank: Cpl.
Birth: Mar. 28, 1961
Virginia Beach
Virginia Beach City
Virginia, USA
Death: Sep. 30, 1982, Lebanon
US Marine Corps
Peace Keeping in Lebanon
David was a combat engineer assigned to clear the airport of land mines and other explosives. A 155-mm "cluster" shell, of the type supplied by the U.S. to Israel, exploded on the airport tarmac, killing him and wounding three other Marines. The shell was apparently left over from the heavy fighting between Israeli troops and guerrillas of the P.L.O.
Cpl David L Reagan Died Sept 30th, 1982, while clearing ordnance off the beach at Lebanon.
Burial:
Unknown