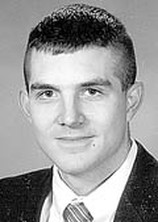 Cpl. CHRISTOPHER L. WEAVER – U.S. Marine Corps
Hometown / City: FREDERICKSBURG, VA FREDERICKSBURG (CITY)
Date of Death: Wednesday, January 26, 2005
Conflict: Operation Iraqi Freedom (Iraq)
Branch: U.S. Marine Corps
Rank: Cpl.
Unit: C CO, 4TH CEB BN, (1ST BN, 23D MAR, 31ST MEU, 1ST MAR DIV), LYNCHBURG, VA
Birth: Aug. 15, 1980
Charleston
Charleston County
South Carolina, USA
Death: Jan. 26, 2005, Iraq
Christopher Lee Weaver, aged 24, left this life for his eternal one in heaven on January 26, 2005, as a result of combat action in Iraq.
Though born in Charleston, South Carolina, on August 15, 1980, he was a lifelong resident of Virginia. Christopher graduated from Chancellor High School in 1998. He was a lifelong Boy Scout, receiving an Eagle Scout rank from Troop 179. He received a bachelor degree in History with a minor in Parks and Recreational Management from Virginia Tech, in 2002. He became a Marine Reservist while in college and had served in the Marines for six years. Shortly before his orders to Iraq were received, he had been employed by Bechtel Nevada in Las Vegas, Nevada.
Christopher was a quiet, intelligent young man with a profound love of history, hiking, camping, bicycling, and skiing. He will be remembered above all for his kindness and devotion to family and friends, and for what he felt was his duty to give back to society and his country.
He is survived by his parents, David D. and Sharon Kay Weaver of Spotsylvania; a sister, Carly Marie Weaver of Cambridge, Massachusetts, and his fianc'e, Danell Weaver of MacLean, Virginia. He is also survived by his fraternal grandparents, Richard Lee and Ellamae Weaver of Kerrville, Texas; aunts and uncles: Calvin and Renee Self of Corpus Christi, Texas, Edward and Christa Self of Plano, Texas, Nancy and Ken Condry of Katy, Texas, Pamela and Charlie Holloman of Westminster, Colorado, Barbara and Allan Ferrin of Bainbridge Island, Washington, Richard D. and Marilyn Weaver of Chula Vista, California, and Terri and Mike Adams of Chula Vista, California. Also surviving him are numerous cousins; his maternal grandparents, Haskell and Florine Self, and his fraternal grandmother, Betty Jean Weaver, preceded him in death.
Joy and Laughter
Moments to Share
A son's love
Is forever there.
Christopher, we love and will miss you.
Mom, Dad, Carly, Danell
Visitation will be held Friday, February 4, 2005 at 9:00am, followed by a funeral service at 10:00am, at Covenant Funeral Home, Covenant Funeral Service, Fredericksburg, Virginia with the Reverend Aubrey Whitten leading the services.
Burial will be at 12:00pm, at Quantico National Cemetery with full military honors.
In lieu of flowers, the family requests that donations be made to any of the following: Fisher Foundation (www.fisherhouse.org) which provides assistance for wounded Marines'families, UNICEF for children of the tsunami, or, by request of Christopher's fianc'e, that you donate blood to your local blood bank in Chris's name since he can no longer do so. Online guest book @ covenantfuneralservice.com
Burial:
Quantico National Cemetery
Quantico
Prince William County
Virginia, USA