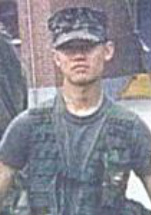 CPL. BINH N. LE – U.S. Marine Corps
Hometown / City: ALEXANDERIA, VA
Date of Death: Friday, December 3, 2004
Conflict: Operation Iraqi Freedom (Iraq)
Branch: U.S. Marine Corps
Rank: Cpl.
Unit: S BTRY, 5TH BN, 10TH MAR, TF NAHA, 31ST MEU, 1ST MAR DIV, CAMP PENDLETON, CA
Birth: Oct. 6, 1984
Virginia, Vietnam
Death: Dec. 3, 2004, Iraq
In life, Binh N. Le adopted this country as his own. In death, his country returned the honor.
Le, 20, a Marine corporal who was born in Vietnam, grew up in Fairfax County and died in Iraq, was buried yesterday under an unseasonably warm sun at Arlington National Cemetery. Over his coffin stood two Marines in dress uniform, one holding a U.S. flag steady in the breeze, the other the flag of the fallen South Vietnam.
Le was killed Dec. 3 in Al Anbar province — by a car bomb set off near a checkpoint he was manning, his family was told. Cpl. Matthew A. Wyatt, 21, of Millstadt, Ill., also died in the attack. Le, a member of the 5th Battalion, 10th Marine Regiment, was serving his second tour in Iraq and was scheduled to come home in April.
As a boy in Vietnam, Le was adopted by Hau Luu and Thanh Le, an aunt and uncle who soon immigrated to America. He was raised in the Alexandria section of Fairfax by the couple and another aunt and uncle, Tuc-cuc Thi Tran and Luong La of Dale City.
He visited his birth parents just once, a pilgrimage made after he graduated from Fairfax's Edison High School in 2002. U.S. officials intervened to ensure that they could come to the funeral, helping them secure visas and passports.
A Marine staff sergeant handed one folded U.S. flag to Le's father, Lien Van Tran. With La translating, Tran, who once served in the South Vietnamese army, told National Public Radio recently that he had not wanted his son to join the Marines but was proud of his service.
"He did the right job for the family, for the country, for himself," Tran said.
La received a second U.S. flag. Nearby stood Deputy Secretary of Defense Paul Wolfowitz and Rep. James P. Moran Jr. (D-Va.).
Friends said Le embraced the life of an American teenager long before joining the Marine Corps in 2000. He surrounded himself with devoted friends, many of whom he met through Junior ROTC or Lorton's Gunston Bible Church.
They described him as energetic and engaging. In high school and afterward, he played in a series of bands with young members of his church. One, a Christian group called Eyeris, built a small, loyal following at churches and coffeehouses. Drums were his passion, but he also had a talent for the keyboards and trumpet, friends said.
"He played everything by ear," said Jamey Payne, a member of Eyeris. "As long as he knew what it took to make a note come out of it, he could play it."
A Web site set up by his friend Paul Stadig features testimonials from dozens of people. Le had so many friends, Stadig said, that many of them didn't know each other. "All of his friends saw him as one of their best friends," he said. Next summer, Le was to have served as a groomsman at Stadig's wedding.
Le was a groomsman at Payne's wedding in May 2003, arriving to the surprised delight of the bride and groom, who thought he was still on his way home from Iraq.
Le returned from his first tour brimming with stories of the gratitude of ordinary Iraqis, friends said. Stadig recalled Le describing an Iraqi family that invited the Marines for tea. When they were finished, the Marines handed their cups back, only to find them quickly refilled. Many cups later, they learned that according to local custom, if a guest drains his cup all the way, it should always be refilled.
Payne said Le saw the conflict in Iraq through the prism of his own life story.
"He understood what it was like in a fairly oppressed society, and he really enjoyed the freedoms he had over here," Payne said. "He wanted to help others experience that. . . . It was a true American story."
Burial:
Arlington National Cemetery
Arlington
Arlington County
Virginia, USA
Plot: Section 60 Site 8088