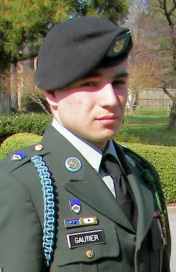 CPL. AARON D. GAUTIER – U.S. Army
Hometown / City: HAMPTON, NEWPORT NEWS, VA HAMPTON (CITY) NEWPORT NEWS (CITY)
Date of Death: Thursday, May 17, 2007
Conflict: Operation Iraqi Freedom (Iraq)
Branch: U.S. Army
Rank: Cpl.
Unit: COMPANY B, 2D BATTALION, 23RD INFANTRY, 4 BCT
Post / Base: FORT LEWIS, WASHINGTON
Birth: Jan. 17, 1988
Hampton
Hampton City
Virginia, USA
Death: May 17, 2007
Baghdad
Baghdad, Iraq
CPL. Aaron D. Gautier, 19, of Hampton, Virginia, died May 17, 2007, in Baghdad, Iraq, of wounds suffered when his mounted patrol came in contact with enemy forces using small arms fire and an improvised explosive device. Gautier was assigned to the 2nd Battalion, 23rd Infantry Regiment, 4th Brigade, 2nd Infantry Division, Fort Lewis, Washington."Tomahawks"
CPL, Aaron D. Gautier, 19, of Hampton, passed May 17, 2007, paying the ultimate price for freedom in Iraq.
A US Army veteran whose proudest accomplishment was graduating infantry school, Aaron enjoyed spending time with his family, especially his two little sisters. He attended Bethel High School, where he was a member of the Army JROTC unit. Aaron found enjoyment in the smallest things in life, and was quick to find friendship in everyone he encountered.
Aaron is survived by his best friend and wife Lindsey Gautier; his mother Tina Houchins and step-dad Donald "Bubba" of Newport News, father Daniel Gautier and wife Tracy; in-laws, Matt and Debbie Kozma of Lakewood, WA; grandparents, Daniel and Teresa Richey of Wilmington, NC, Brian and Dottie Coleman of Hampton, Ken and Pat Lenorman of Newport News, step-grandmother, Saundra Mayes of Hopewell; great-grandfather, Ray Grieve of Hampton; two sisters, Tricia Gautier and Alexis Houchins of Newport News; aunt Val Gautier-Conlon and uncle Jimmy of Newport News, aunt Tracy Boswell of Hopewell, Uncle RC Stockum of Hampton; and a host of family and friends.
(bio by: Tina Houchins)
Inscription:
Cpl. Aaron Daniel Gautier Burial:
Hampton Memorial Gardens
Hampton
Hampton City
Virginia, USA
Plot: Circle of Honor