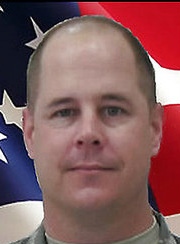 COL. JON M. LOCKEY – U.S. Army
Hometown / City: BAKERSFIELD, CA KERN
Date of Death: Friday, July 6, 2007
Conflict: Operation Iraqi Freedom (Iraq)
Branch: U.S. Army
Rank: Col.
Unit: HEADQUARTERS, MULTI-NATIONAL CORPS (IRAQ), CAMP VICTORY, IRAQ
Birth: Apr. 28, 1963
Hollywood
Los Angeles County
California, USA
Death: Jul. 6, 2007
Baghdad, Iraq
He was the son of Harold William and Patricia Ann (Blades) Lockey. Jon attended the United States Military Academy at West Point and was in the class of 1985. He received his commission in the Army as a Field Artillery officer. He also attended Monterey Language Institute to study Italian, where he met his wife, Dorothea Jean Lockey. In August of 1987, they were married. After receiving a Master's Degree from NMSU, he established residence in Fredericksburg, Virginia. Jon attended Command and General Staff School in Ft. Leavenworth, Kansas and then War College in Carlisle, Pennsylvania. He was a devoted father who enjoyed spending his free time with his sons. He was loving husband and wonderful father, a respected officer, and served his country with honor. He passed away while stationed in Iraq from injuries sustained from a non-combat related incident. He was assigned to Headquarters, Department of the Army, Washington, D.C. He leaves behind his wife of 20 years, Jeannie; his two sons, Steven R. Lockey, and Christopher J. Lockey; his mother, Pat Lockey, and father, Hal Lockey; sister, Susan Lockey. He also leaves behind many family and friends who loved him dearly.
Burial:
Arlington National Cemetery
Arlington
Arlington County
Virginia, USA
Plot: Section 60, grave 8645