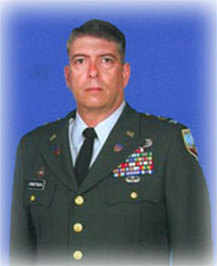 COLONEL DOUGLAS KENT ZIMMERMAN
Age: 51
Date of Death: June 2, 2006
Unit: Warfighting Center, Joint Force Command, Suffolk, Va.
Birth: Dec. 23, 1954
Topeka
Shawnee County
Kansas, USA
Death: Jun. 2, 2006
YORKTOWN – Colonel Douglas Kent Zimmerman, US Army, 51, passed away Friday, June 2, 2006. Col. Zimmerman was a native of Topeka, Kan. and a Peninsula resident for the last 3 1/2 years, coming to Yorktown from Vicksburg, Miss. Col. Zimmerman was a graduate of The United States Military Academy, West Point, New York, Class of 1978, and a graduate of the Army War College, Class of 2004. He was currently assigned to the Warfighting Center, Joint Force Command, Suffolk, Va. He is survived by his loving wife of 24 years, Renice A. Zimmerman; his son, Douglas Kent Zimmerman, III of Yorktown; his father, William Carl Zimmerman and his wife, Cynthia of Temecula, Calif.; and his mother, Beverly Jones Zimmerman of northern California. He is also survived by two brothers, Robert Zimmerman of northern California, 2nd Lt. Casey Zimmerman of Fort Benning, Ga.; three sisters, Susan Savva and Mary Ludwick of northern California and Abigail Ettinger of Pasadena, Calif. and several nieces and nephews. A Funeral Mass will be held at 2 p.m. Wednesday, June 7, 2006 at the Regimental Chapel on Fort Eustis with Father Vincent Douglass officiating. The family will receive friends from 7 to 8:30 p.m. on Tuesday, June 6, in Amory Funeral Home, Grafton. A Graveside Service with full military honors will be held in Arlington National Cemetery at a later date.
Obituary, Daily Press, May 6, 2007.
Inscription:
US ARMY IRAQ Burial:
Arlington National Cemetery
Arlington
Arlington County
Virginia, USA