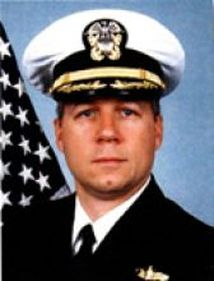 CAPT. ROBERT EDWARD DOLAN JR.
Florham Park, NJ/Alexandria VA.
Age: 43 years old.
Died: September 11, 2001.
Unit: Pentagon,  head of strategy and concepts branch, U.S. Navy.
Incident: Died when terrorists flew American Airlines Flight 77 into the Pentagon.
Birth: Mar. 1, 1958
Florham Park
Morris County
New Jersey, USA
Death: Sep. 11, 2001
Washington
District Of Columbia, USA
Navy Capt. Dolan, 43, was working on the first floor of the Pentagon as head of the Strategy and Concepts Branch, when a hijacked jetliner slammed into the building. A 20 year Navy veteran, Dolan attended the U.S. Naval Academy, where he earned his bachelor's degree in ocean engineering.
In 1994, Capt. Dolan served as executive officer aboard the USS Thomas S. Gates in the Mediterranean and Arabian Gulf.
From October 1998 to May 2000 he was commanding officer of the USS John Hancock. Capt. Dolan's decorations include the Defense Meritorious Service Medal, Meritorious Service Medal, Navy Commendation Medal, and the Navy Achievement Medal.
Capt. Dolan is survived by his wife, Lisa, his children, Rebecca, 15, and Beau, 9; his parents, Joan and Robert of Florham Park, NJ; two brothers, Christopher of Quakertown, Pa., and Daniel of Bethel, Pa., and several nieces and nephews.
http://www.njrunforthefallen.org/capt-robert-edward-dolan-jr.html