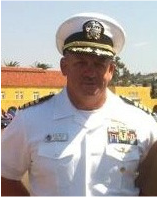 CAPTAIN PATRICK R. MUELLER
A native of Buffalo, NY raised in Monroe, MI, Captain Mueller enlisted in the Navy on Nov. 1976. He remained enlisted until 1990 at which point he was commissioned to LDO and in 2009 converted to Restricted Line officer until he passed away in August 2014.  He spent almost 38 years on active duty, 21 of which were in Virginia Beach.
Captain Mueller went to the Navy War College just before his last duty assignment as, Director, C4 Systems, J6 at COMUSJAPAN Yokota AB. He enjoyed his Harley Davidson Road King, touring Japan, taking naps, and hiking the mountains in Japan, which is what he was doing the day before he suffered from sudden cardiac arrest.  He was looking forward to retiring and spending time with his family.
A wife of 32 years, two daughters, a son, son in-law, two grandsons, two brothers, and two sisters survives him.