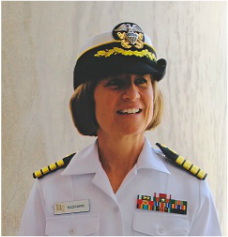 CAPT. Lorraine S. Nadkarni
Alexandria, VA
Date of Death: April 10, 2014
Branch: U.S. Navy
She was a Navy physician with a distinguished career.
HM4-244
Born in Phoenixville, PA on January 9, 1956 Lorraine eventually was accepted into the Navy HPSP scholarship prior to matriculating into the Nova Southeastern University's College of Osteopathic Medicine in 1989. It was there that she met her future husband, Captain Dipak D. Nadkarni, MC, USN who made the astute observation that he would have to follow her as a civilian physician or would have to join the Navy.
She completed her internship at Charleston Naval Hospital and her residency in Family Medicine at Eisenhower Army Medical Center. Highlights of her career included tours at Guantanamo Bay; Parris Island; Naval Hospital Beaufort; Pearl Harbor; Yokosuka, Japan and the SECNAV CORB-PEB in D.C. She also deployed in support of OIF to Kuwait in 2008-2009. Working both as a clinician and in many administrative roles as FP Department Head, Senior Medical officer, Director for Clinical Support Services, and acting XO on numerous occasions in the incumbent's absence eventually promoted her to the rank of Captain. In the midst of enjoying her career with the USN and USMC she was diagnosed with a terminal brain tumor (GBM, Stage 4) in 2010.She made a recovery and returned to full duty until 2013 when she had a recurrence which became untreatable. She passed on April 10, 2014 at home with her husband present.
Highlights of her awards and decorations include the Legion of Merit, the Meritorious Service Medal, the Navy and Marine Corps Commendation Medal with two gold stars, the Navy and Marine Corps Achievement Medal with one gold star, the Meritorious Unit Commendation with one bronze star, and the National defense Service Ribbon with one bronze star.
She was buried at Arlington National Cemetery Memorial weekend with family, colleagues, and seniors present. Both she and her husband are born again Christians and she completely left her future in the Lord's hands after she was diagnosed.