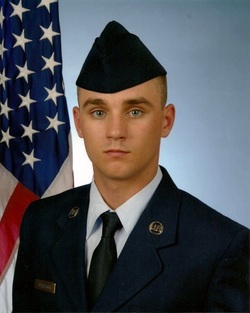 AIRMAN 1st CLASS ZACHARY R. CUDDEBACK – U.S. Air Force
Hometown / City: Stanardsville, Va
Date of Death: Wednesday, March 2, 2011
Conflict: Operation Enduring Freedom (Afghanistan)
Branch: U.S. Air Force
Rank: Airman 1st Class
Unit: 86th Vehicle Readiness Squadron
Post / Base: Ramstein Air Base, Germany
Birth: Jul. 6, 1989
Scott Air Force Base
St. Clair County
Illinois, USADeath: Mar. 2, 2011
Frankfurt am Main
Hessen, Germany Posted on Fri, Mar. 18, 2011
Tribute: Wing commander reflects on farewell to fallen O'Fallon airman
Commentary by Brig. Gen. Mark Dillon
86th Airlift Wing commander
Editor's note: Last weekend when the community paid tribute to Airman 1st Class Zachary Cuddeback, four service members from his air base in Ramstein, Germany, also came to say farewell. Here are the impressions of one of them, Brig. Gen. Mark Dillon.
RAMSTEIN AIR BASE, Germany — For two days last week, four Ramstein Airmen traveled to O'Fallon, Ill. We were there to attend the funeral of our fallen wingman, Airman 1st Class Zac Cuddeback.
Before we departed Germany, we learned that back in Illinois, the community was placing several thousand large American flags along Airman Cuddeback's arrival route. Upon Zac's arrival on March 12, hundreds of patriots would stand silent on this same route.
We missed Zac's arrival by a couple of hours but later that night, as we approached the town of O'Fallon, we started seeing them — American flags — hundreds upon hundreds of them.
Perhaps it was because we have been living outside the United States for a while, or maybe it had been a long flight from Germany, or maybe it was a pure patriotism. Whatever the reason, as we started passing the flags our car fell silent.
For miles we passed flags on both sides of the road. And then as we entered O'Fallon, we didn't just see flags, we now noticed the billboards too. Yes every billboard — churches, schools, and businesses — all had a message honoring Airman Cuddeback. Dozens of them.
Needless to say, these symbols of a community's support — American flags and billboard messages dedicated to Zac — put a lump in my throat.
The next day the patriotism and community outpouring continued. When we drove to St. Nicholas Church for Zac's visitation and funeral we didn't need a GPS … we just followed the American flags, hundreds and hundreds more.
Upon arrival at the church, the entire parking lot was surrounded by flag holding "Patriot Guards" standing shoulder to shoulder. Patriot Guard Riders are motorcyclists with one mission: attend the funeral services of fallen heroes, show respect and protect them from protesters.
We got out of our car and walked to the church entrance — more American flag holding Patriot Guards and now they were joined by Boy Scouts. All were lined up in silent vigil for Zac.
We spoke with many of the Patriot Guards. Some were locals. Many more had ridden their motorcycles 4 to 6 hours to be in O'Fallon that day. They were there hours before we arrived at the church. They stood silently guarding Airman Cuddeback and his family. And after the funeral, over 200 of them would lead Zac to his final resting place.
And then, when we thought we couldn't see any more outpouring from this community, it happened. It happened as we began our 4-mile drive to the cemetery. It happened as we drove through neighborhoods and along country roads.
It was on the drive we saw them; hundreds; no, not hundreds, but thousands. Thousands of O'Fallon citizens lining the route to honor Airman Cuddeback.
They stood silently on both sides of the road. They stood with American flags in hand. They stood holding up homemade signs. They stood saluting. They stood in their front yards. They stood next to an industrial-sized crane flying a massive American flag above the procession.
And we were there … we saw them all: moms and dads, grandparents and kids. Some were in wheel chairs, others in strollers, but they were all there. And mixed in among them were boy and girl scouts, military, police, firefighters and store owners. Yes, thousands were there for Zac.
Although they couldn't bring him back, they did the next best thing — they honored him. They honored his family. They honored his service. They honored his ultimate sacrifice. This small town came out in big numbers for one of their very own. Silent … patriotic … powerful. And we were there.
Last week four Ramstein Airmen left Germany to honor our fallen wingman, Airman Cuddeback. We return humbled. Humbled by the honor shown in one small town in America. May God Bless Airman 1st Class Zachary Ryan Cuddeback, his family and the United States of America.
© 2007 Belleville News-Democrat and wire service sources. All Rights Reserved. http://www.belleville.com
Burial:
Keppler's Cemetery
O'Fallon
St. Clair County
Illinois, USA