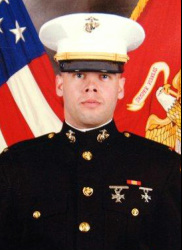 1st LT. DONALD R. MCGLOTHLIN – U.S. Marine Corps
Hometown / City: LEBANON, VA RUSSELL
Date of Death: Wednesday, November 16, 2005
Conflict: Operation Iraqi Freedom (Iraq)
Branch: U.S. Marine Corps
Rank: 1st Lt.
Unit: F CO, 2D BN, 1ST MAR, 1ST MAR DIV, CAMP PENDLETON, CA
Birth: Jul. 12, 1979
Grundy
Buchanan County
Virginia, USA
Death: Nov. 16, 2005
Al Anbar, Iraq
Marine 2nd Lt. Donald Ryan McGlothlin, age 26, was killed in action Wednesday, Nov. 16 while engaged in combat in the Al-Anbar province in western Iraq.
Ryan was born July 12, 1979, in Grundy, where he lived until moving with his family to Lebanon in August 1989. He attended Elk Garden Elementary School and Lebanon Middle School before entering Lebanon High School with the Class of 1997. While at Lebanon, Ryan was inducted into the National Honor Society, earned all-regional honors in football, as well as letters in wrestling and track. Outside of school, he was very active in the Boy Scouts, attaining the rank of Eagle. Ryan was voted "Most Likely to Succeed" by his classmates and graduated valedictorian of the Class of 1997.
Ryan was awarded the Robert C. Byrd Scholarship as a result of his high school achievements and enrolled at the College of William & Mary in the Class of 2001. At William & Mary, Ryan maintained a 3.97 grade point average while earning a B.S. in chemistry, for which he was inducted into Phi Beta Kappa and awarded the William Guy Chemistry Award as the outstanding chemistry student.
Upon completing his studies at William & Mary, Ryan accepted a doctoral research fellowship at Stanford University. In two years, he completed his master's degree in polymer chemistry.
Ryan's interest in the military began as a young boy. He joined the Army ROTC program at William & Mary, where he was awarded a ROTC three-year tuition scholarship but was subsequently medically disqualified due to a childhood respiratory illness. Spurred by the events of Sept. 11, 2001, Ryan again started the process of joining the military, this time with the Marines, while he studied at Stanford. Following the completion of his master's degree, Ryan entered Officer's Candidate School in Quantico in October 2003.
Ryan was commissioned as a second lieutenant on Dec. 12, 2003, and entered The Basic School, or TBS, a rigorous six-month training program unique to the Marine Corps. Ryan graduated on July 8, 2004, as the honor graduate, which in the officer achieving the highest overall scores in his class at TBS.
Ryan chose to enter the Marine Corps as an infantry officer and was stationed with the 1st Marine Division at Camp Pendleton in Southern California as a platoon commander, a job he immediately fell in love with. Ryan's platoon deployed in July 2005 as part of the 13th Marine Expeditionary Unit aboard the U.S.S. Cleveland. His unit participated in training exercises in Australia and Egypt before arriving in Kuwait in mid-October and was moved to the Forward Marine Base in Al-Alsad in the Al-Anbar province, Iraq, shortly thereafter. Ryan's platoon took part in Operation Steel Curtain, launched to eliminate the presence of terrorists and insurgents along Iraq's border with Syria. Ryan was killed by small arms fire in the town of Ubadi while he and his Marines were attempting to rescue some of their wounded brothers.
Ryan is survived by his parents, Ruth and Donald A. McGlothlin Jr.; brothers, Nathan and Sean McGlothlin; sisters-in-law, Kelly McGlothlin and Ewelina Szreder; nieces, Kathleen McGlothlin and Emma McGlothlin; and nephew Bryce McGlothlin. He is survived by grandmothers, Mary L. McGlothlin and Ruth M. Johnson, as well as many aunts, uncles and cousins.
Ryan was preceded in death by his grandfathers, Donald A. McGlothlin Sr. and Walter S. Johnson. The Marine Corps will provide full military honors for Ryan.
Among Marine pallbearers will be childhood friends 2nd Lt. Joseph Davis and Capt. Toby Collins and TBS classmates 2nd Lt. Christopher Myette and 2nd Lt. Joseph Officer. Honorary pallbearers will by Sean and Nathan McGlothlin, Scott Gilmer, Jacob Musick, Joey Talbert, Brad Shepard, Brian Owens, Josh Fields, Geoff David, Maneesh Singla, Marion Martin and Nick Kelly.
The family requests that, in lieu of flowers, contributions be made to the Injured Marine Semper Fi Fund, 825 College Blvd., Suite 102, PMB 609, Oceanside, CA 92057, www.semperfifund.org, or to a scholarship fund established in Ryan's memory at Lebanon High School, Lebanon, Va.
Burial:
Ketron Memorial Gardens
Lebanon
Russell County
Virginia, USA