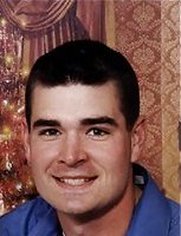 1st LT. JEFFREY J. KAYLOR – U.S. Army
Hometown / City: CLIFTON, VA FAIRFAX
Date of Death: Monday, April 7, 2003
Conflict: Operation Iraqi Freedom (Iraq)
Branch: U.S. Army
Rank: 1st Lt.
Unit: BATTERY C, 39TH FIELD ARTILLERY, FORT STEWART, GA
Birth: Oct. 22, 1978
Clifton
Fauquier County
Virginia, USA
Death: Apr. 7, 2003, Iraq
Killed in a grenade attack in Iraq. He was assigned to C Battery, 39th Field Artillery Battalion, Fort Stewart, Georgia. Died on April 7, 2003.
Keeping the Memory of Jeff Kaylor Alive
By James Moon
March 31, 2005
U.S. Army First Lieutenant Jeff Kaylor of Little Rocky Run died two years ago on April 7, 2003, while securing a surface-to-air missile cache near Baghdad when an abandoned anti-aircraft vehicle exploded.
His portrait was unveiled March 23 at the new "Faces of the Fallen" exhibit at the Women in Military Service for America Memorial at Arlington National Cemetery. It will run through September 5, 2005. Jeff's portrait is among 1,327 by 100 artists of soldiers who died from October 10, 2001 to November 14, 2004.
"It's very eclectic," said Jeff mother, Roxanne Kaylor, after viewing her son's portrait on the opening day. "All different kinds of media, but they are all 4×6-inches — that's what [brings] them [visually] together."
The portraits on display are crafted from almost anything — mirrors, clay, glass, newspaper collage, acrylic and crayon.
JEFFREY J. KAYLOR was born at Fort Bragg, North Carolina, on October 22, 1979, but spent most of his life in the Little Rocky Run community where his family still resides. He attended Union Mill Elementary, Rocky Run Middle, and Centreville High School, where he was a middle linebacker for the varsity football team.
After graduation from Centreville High in 1997, he attended Virginia Tech, earning a B.S. in Management Science and Information Technology and joining the Virginia Tech Corps of Cadets. He became a cadet Army battalion commander and a scholarship recipient for three years. Upon graduation in 2001, he was commissioned an Army Second Lieutenant in field artillery.
Following graduation, he attended jump and leadership schools at Fort Benning, Georgia, and received basic training at Fort Sill, Oklahoma. In the spring of 2002, he was assigned to 1st/39th Artillery Battalion as platoon leader for the 2nd firing Platoon at Fort Stewart, Georgia, after completion of Field Artillery Officer Basic Course.
The next year, he married his wife Jenna, an Army Lieutenant he had met in Virginia Tech, but he received deployment orders. They wed on July 5, a month before he left for Kuwait to support the Intrinsic Action Rotation. He died the following spring during Operation Iraqi Freedom.
Jeff, known affectionately as "Ffej" by friends, was a hero to many and "a wonderful man who left memories with everyone he knew," writes wife Jenna on a memorial Web site. Even those who knew him for a short while, such as First Lieutenant Trent B. Bunnell who served with him in Officer Basic Course, cannot forget "the smiles, the positive attitude and the new red Mustang," he wrote.
He led a distinguished career as an American serviceman, earning the Army Service Medal, the Army Service Ribbon, and the National Defense Service Medal. He was posthumously awarded the Bronze Star and the Purple Heart and laid to rest at Arlington National Cemetery on April 23, 2003 in section 60.
"THE ANGER and sadness is as strong as it was two years ago," said Roxanne Kaylor. "Jeff might have been alive today if our leaders had not rushed so hastily into a conflict which has produced so many needless deaths."
In the spirit of overcoming the sorrow and keeping alive Jeff's memory, Kayor's parents established the Jeffrey J. Kaylor Memorial Scholarship Fund to help individuals like Jeff in their community. "Jeff was a nice, average kid — responsible, perfect attendance — [he] enjoyed friends and teachers. The most enjoyable years for Jeff were high school."
Family and friends conducted a dedication ceremony for the scholarship at Centreville High last Saturday, presenting a bronze plaque to the school, now hung in the lobby outside the auditorium. Over 40 people were in attendance, including Jeff's friends, the Kaylor's neighbors in the community, and Sen. Jay O'Brien (R-39th).
The scholarship is open to CVHS seniors possessing a GPA of 2.5 and 3.5 or higher entering a U.S. university, college, technical or vocational school in the fall of 2005. Candidates will be considered on the basis of athletic participation, extracurricular activities, and personal strengths and qualities (as demonstrated in a personal statement and recommendations letters).
The evaluation committee, which is independent of Centreville High School, is made up of family and friends of Kaylor and is interested in helping students who felt the same was Jeff did in high school, those who have the same good attitude.
"We're looking for the average kid, the kind who wilt inside the wall and people forget about," said Roxanne Kaylor, in regards to the selection process. "Some times those kids are missed."
Either two scholarship awards of $1,000 for a male and female or just one scholarship at $1,500 will be offered. The deadline to apply is May 2, 2005. Application forms are available in the CVHS Career Center. For more information, contact Roxanne Kaylor at vrkaylor@cox.net or write to the Jeff Kaylor Memorial Scholarship Fund, Centreville High School, 6001 Union Mill Road, Clifton, Virginia 20124.
IN ADDITION, another scholarship, the Jeffrey J. Kaylor Memorial Emerging Leader Scholarship Fund, has been established by the Virginia Tech's Corps of Cadets. Kaylor is memorialized on one of the eight Ut Prosim War Memorial pylons at the northern end of Virginia Tech's Drill field, dedicated to members of the Corps killed in action.
Service Dates: 01-Oct-2000 – 07-Apr-2003
Burial:
Arlington National Cemetery
Arlington
Arlington County
Virginia, USA
Plot: Sec: 60, Site: 7871