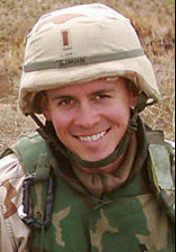 2nd Lt. JEFFREY C. GRAHAM – U.S. Army
Hometown / City: ELIZABETHTOWN, KY HARDIN
Date of Death: Thursday, February 19, 2004
Conflict: Operation Iraqi Freedom (Iraq)
Branch: U.S. Army
Rank: 2nd Lt.
Unit: C COMPANY 1ST BATTALION 34TH ARMOR REGIMENT (1ST ID), FORT RILEY, KS 66442
Birth: Sep. 22, 1979, Germany
Death: Feb. 19, 2004, Iraq
2nd Lt. Jeffrey C. Graham, 24, of Lexington, died Thursday, Feb. 19, 2004, in Khaldiya, Iraq.
Born in Landstuhl, Germany, he was a second lieutenant tank platoon leader with the Army, 1st Battalion, 34th Armor in Fort Riley, Kan. He graduated in 1998 from Brooke Point High School in Stafford, Va., and was a 2003 Distinguished Military graduate of the University of Kentucky where he received his Engineering in Training Certificate from the Kentucky State Board of Registration for Professional Engineers and Land Surveyors. He was a former leader of UK's Pershing Rifle's drill team and a member of the Baptist faith. He has been awarded the Bronze Star Medal and the Purple Heart posthumously.
He was killed while leading a patrol near Khaldiyah, Iraq, when a bomb exploded on the roadside. Army officials said he had spotted the bomb strapped to a guardrail and had turned to warn the others in his platoon when it exploded.
Burial:
Frankfort Cemetery
Frankfort
Franklin County
Kentucky, USA