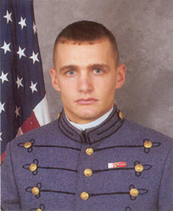 1ST LT. JOSHUA BOOTH – US Marine
Hometown / City: Fiskdale, MA.
Date of Death: October 17, 2006
Conflict: Operation Iraqi Freedom
Branch: U.S. Marine Corps
Rank: 1st Lt
Unit: 2nd Battalion, 3rd Marines, 3rd Marine Division, Kaneohe Bay, Hawaii
HM1-006
12th Citadel grad makes ultimate sacrifice
Updated 1 November 2006
Marine Joshua Loren Booth, Citadel Class of 2005, has died in Iraq. He was posthumously promoted to first lieutenant and awarded a Purple Heart on Oct. 26
FUNERAL SERVICES for Joshua Loren Booth were Oct. 26, 2006 at Bedford Baptist Church, Bedford, Va. Burial in Longwood Cemetery with full military honors conducted by the U.S. Marine Corps. Complete obituary click here.
Booth was killed Oct. 17 by small arms sniper fire while conducting combat operations against anti-Iraqi forces in the Al Anbar Province. He is the 12th Citadel graduate to die in the wars in Iraq and Afghanistan.
The Citadel family will remember Booth, during a campus memorial service at 12:30 p.m. Friday in Summerall Chapel.
Booth was a criminal justice major from Fiskdale, Mass., where he graduated from St. Johns High School in 2001. He is the son of John Edwin Booth and Debra L. Booth of Fiskdale.
Booth, 23, was a member of the Pistol Club where he lettered and attended national competitions in pistol shooting. He enrolled at The Citadel in the summer of 2001. He joined Charlie Company and later transferred to November Company before going back to 1st Battalion and Bravo Company. He was married the day after he graduated in May 2005. His wife Erica is expecting their second child, a son, in January. They have a daughter, Grace, 1.
"He loved the Marines and all Marines," said Cadet Jean Keating, a friend of Booth's.
He was assigned to 2nd Battalion, 3rd Marines, 3rd Marine Division, Kaneohe Bay, Hawaii.
Maj.Bill Bell, a tactical offier in 1st Battalion, said he will never forget Booth's excitement when he got his dress blue uniform and came to him for guidance on wearing it correctly.
"He was always concerned about becoming an officer, and when he became an officer, about doing the right thing and taking care of his people," Bell said.
Tactical officer Col. Bob Sberna said a prayer vigil was held in 1st Battalion to remember Booth. He remembers Booth's love of the Marine Corps most.
"He was bleeding scarlett and gold. He was gung ho," Sberna said. "He lived it, he ate it, he breathed it. And he was a good kid."
According to a report in the Boston Globe, Booth is survived by his wife, daughter, parents, a sister, Melissa L. DeVera of Fredericksburg, Va., and a large extended family.