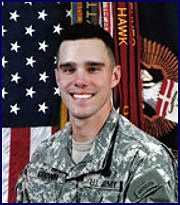 1st LT. THOMAS J. BROWN – U.S. Army
Hometown / City: BURKE, VA FAIRFAX
Date of Death: Tuesday, September 23, 2008
Conflict: Operation Iraqi Freedom (Iraq)
Branch: U.S. Army
Rank: 1st Lt.
Unit: COMPANY A, 2D BATTALION, 6TH INFANTRY, 2 BCT, SMITH BARRACKS, GERMANY
Birth: Mar. 13, 1982
New Haven
New Haven County
Connecticut, USA
Death: Sep. 23, 2008, Iraq JOHN BURGESON
Staff writer
Article Last Updated: 10/02/2008 10:53:
FROM THE CT. POST
MONROE — St. Jude Church was filled to capacity Thursday as more than 550 mourners attended funeral services for Army 1st Lt. Thomas Brown, of Shelton, who was killed in action in Iraq on Sept. 23.
Friends and family of the fallen soldier braved a stiff breeze as they filed into the church, their path bedecked with about 75 American flags, each one carried by a member of the Patriot Guard, a group of motorcycle riders from across the state who turn out for military funerals. The flags snapped smartly in the west wind as clouds boiled overhead.
Another salute was also provided by the Stevenson and Monroe volunteer fire departments, which used a pair of ladder trucks to string a large Old Glory across Route 110, not far from the church, just prior to the service.
An honor guard detail of six men from the Connecticut Army National Guard carried Brown's flag-draped, gray casket from the hearse into the church for the service, which began at 11 a.m.
The mourners included state Attorney General Richard Blumenthal.
The church service lasted about an hour, and members of the press were asked to remain outdoors.
Brown, 26, was assigned to A Company, 2nd Battalion, 6th Infantry Regiment, 1st Armored Division, based in Baumholder, Germany. He is the 43rd member of the military with Connecticut ties to be killed in Iraq or Afghanistan since the wars began.
"The service was somber, moving — everything it should have been," said Rev.
William Sangiovanni, the principal of Notre Dame Catholic High School in Fairfield, Brown's alma mater. Sangiovanni delivered condolences from Bishop William Lori of the Roman Catholic Diocese of Bridgeport, who was at the Vatican.
"His mother, Carol, in my eyes, is such a heroine herself, with all that she's been through — she lost her husband just three years ago," Sangiovanni said.
The mourners were moved by the poem, "The Final Inspection" (author unknown), which was read during the service by Brown's identical twin, Timothy, of Sierra Vista, Calif.
The service was led by the Rev. Joseph "Skip" Karcsinski, parochial vicar of St. Jude Parish, who had also celebrated the funeral Mass for Brown's father, Kevin K. Brown.
As a child, Thomas Brown attended St. Jude School, only a few yards away from where he was eulogized.
He went on to graduate from Notre Dame High School and George Mason University in Fairfax, Va. Later, he graduated from the Army's Officer Candidate School, and was commissioned as a second lieutenant infantry officer on April 13, 2006. He also earned the Ranger Tab and his Airborne Wings, and was deployed to Iraq on April 3 after being promoted to the rank of first lieutenant.
Brown was posthumously awarded the Bronze Star, the Purple Heart and the Combat Infantry Badge. These honors will be formally presented to his mother when he is buried Dec. 11 at Arlington National Cemetery in Virginia.
Burial:
Arlington National Cemetery
Arlington
Arlington County
Virginia, USA
Plot: Sec 60 Site 8744