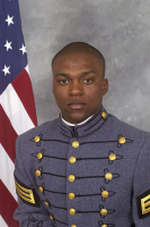 1st LT. ALMAR L. FITZGERALD – U.S. Marine Corps
Hometown / City: LEXINGTON, SC LEXINGTON
Date of Death: Tuesday, February 21, 2006
Conflict: Operation Iraqi Freedom (Iraq)
Branch: U.S. Marine Corps
Rank: 1st Lt.
Unit: WPNS CO, 3D BN, 7TH MAR, (2-28 BCT, 2D MAR DIV), TWENTYNINE PALMS, CA
Birth: Sep. 21, 1982, USA
Death: Feb. 23, 2006, Iraq
1st Lt. Almar LaRon Fitzgerald, 23, died February 23, 2006. Surviving are a loving mother and stepfather, Sharon Fitzgerald (William) Foster of Lexington, S.C.; father and stepmother, Robert L. (Lula Lamb) Fitzgerald of Richmond; sister, Chajuan; brothers, Roderick, Stanley and Robert II; other relatives and friends. Burial, with full military honors, in Florence National Cemetery, Florence, S.C.. Memorial services will be held at a later date in Virginia.
Burial:
Florence National Cemetery
Florence
Florence County
South Carolina, USA
Plot: Section 10 Site 50